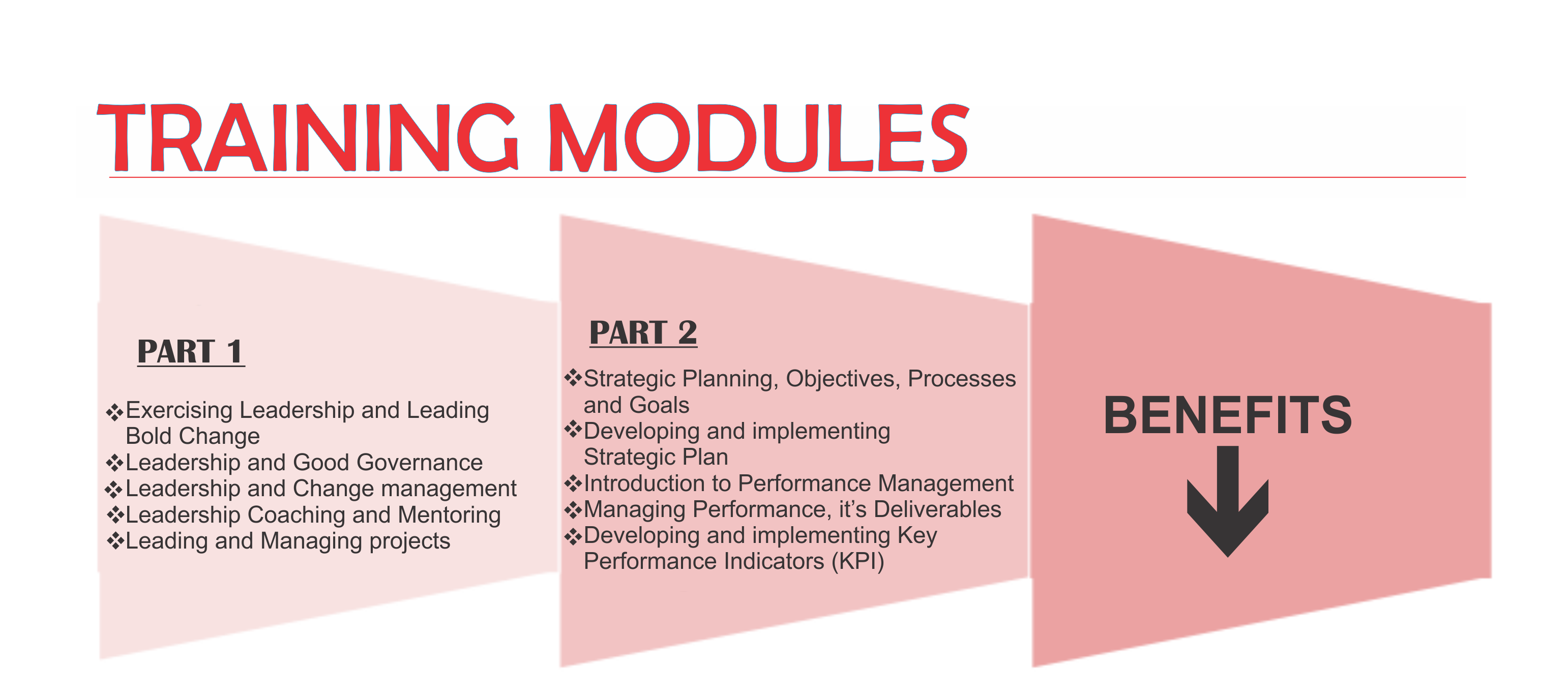 PART 1
Exercising Leadership and leading bold change
Leadership and good Governance
Leadership and Change Management
Leadership Coaching and Mentoring
Leading and managing projects
PART 2
Strategic Planning, Objectives, Processes and Goals
Developing and implementing strategic plan
Introduction to performance management
Managing Performance its Deliverables
Developing and implementing Key Performance Indicators (KPI)
Customised Leadership Training programme designed according to your needs
Delivered Training in sector specific area of participants' operation or work
Shelving the "one size fits all" Training approach for customised developmental Training
Interactive Sessions with Case Study analysis
Personal Coaching and Mentoring
Lectures
Notes Case Scenarios
Problem Solving Approach
On the Job Learning
LEADERSHIP AND PERFORMANCE MANAGEMENT TRAINING PROGRAMME 
This course is designed for busy executives with the desire to self-develop. Do you need more than the regular "one size fits all" Training Programmes? Do you need Organizational and personal needs tailored Training to ensure increase in personal effectiveness and overall Organisational performance? We have the answer for you! As development experts we are well aware that everyone has individual needs and requirements, thus Frandek has designed a perfect Training fit for those needs.
TARGET AUDIENCE: Anyone Learning to Lead! This Programme is for any Leader or aspiring Leader who desires cutting edge, Harvard Business School inspired Training, Coaching and Mentoring in a Comfortable and Exclusive Environment. 
Frandek International Consulting brings you a Bespoke Training Programme Initiative – a perfect Training alternative for busy professionals and those who want more out of Trainings!
Course Facilitators: The Bespoke Training programme will be delivered by international experts with a Harvard Business School experience and a real understanding of the needs of the Public and Private Sector in Nigeria. Several hundred professionals have gained from the cutting edge information and skills that will be offered with this course.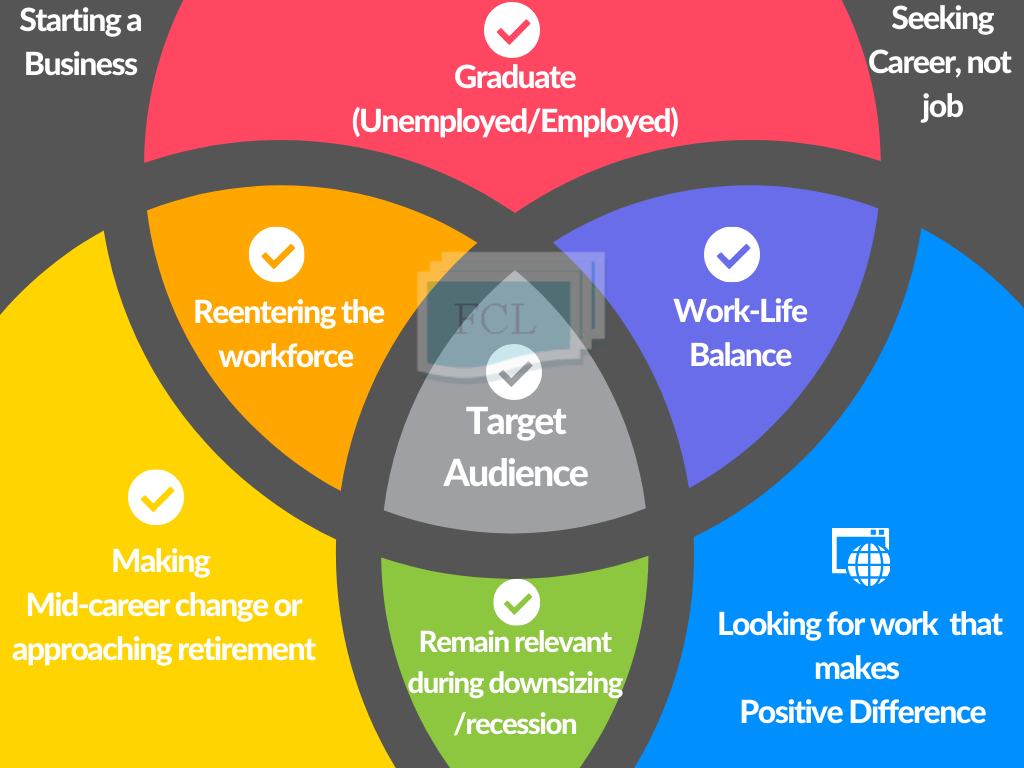 NEW PATH: SETTING NEW PROFESSIONAL DIRECTIONS
NEW PATH is a Career Re-Direction Training Program focusing on women to initiate a career management process for themselves. NEW PATH is an active and purposeful programme that takes you through a process to explore management of personal career goals, expectations and outcomes.  It seeks to open doors to careers  and opportunities that women might not have considered. It seeks fit skills, passions, opportunities, networks and experiences into women's career plans. This training creates the opportunity to reflect on your career path by learning how to research options, realize your strengths, acquire new skills and forestall redundancy. It will help participants to muster the courage to make the changes that they desire, and discover a NEW PATH in career that is right for them.
BENEFITS
The NEW PATH program offers a clear picture of everything that really matters in career re- jigging. It looks at natural abilities, aptitudes, personality, values, commitments, passions and lifestyle and the employment needs of individuals. It is a career development program planned to integrate a series of activities related to women career planning and at the same time balancing other personal needs as they strive to enter or continue in the labour market.
The main objective of designing and developing a women's career management program is to provide the opportunity to expand their horizons, upgrade and use their skills to maximum in other to attract the kind of careers they desire.
It will use a process based approach to addressing innate questions and help to resolve grey areas leading participants to the best possible career decisions. Along with this, NEW PATH will stimulate a positive change in the attitude and behaviour of women in seeking or retaining their career path.
New Path Training Modules
DAY 1
Designing and implementing my new career path
Turning Vision into purpose
Managing change
Understanding my Skills Set
Strategies for implementing a career path
Work-life Balance
DAY 2
Entrepreneurship: -Your unique Personal Brand
Understanding the Market: Developing Strategies for entering into your Brand Market
Building a Start-Up
The World of Digital Entrepreneurship
My New Path Action Plans and Implementation Strategy
The program will guide participants toward an exhilarating new to life and work. It will provide opportunities for:
Personal fulfillment
Professional reorientation
Future Job Security
Better income potentials
Alternative career options
This training is designed for young people especially women of all age groups. Regardless of the reasons for being out of work, the right career is out there for everyone. This program is for you if you:
have just graduated from school and currently unemployed
have begun to lose interest in your job routine
ready to make a mid-career change or approaching retirement
returning to the workforce after an absence
seeking a real career, not just a "job"
looking for work with meaning or that makes a positive difference
your company is downsizing or your industry is facing a recession
You are in between jobs or been out of work for a while
You desire a work-life balance for yourself or your staff
You a woman desiring to start a new business
Participants can also come from groups within organisations including Women associations.
SKILLS-BASED EMPLOYMENT TRAINING PROGRAMME: FOR GRADUATES AND NON-GRADUATES
The Frandek Consulting skills-based employment training Programme have been carefully designed and developed to meet the participant's personal effectiveness and work-based needs. This is an opportunity to acquire a life skills, job-place ethics and principles that will empower participants to add value and be effective, efficient and adaptable in their work place.
For maximum effectiveness, the training programme will be delivered by experts, qualified counsellors, vocational and employment coach and trainers.
This programme is divided into two parts:
Part 1 – This section of the program will include providing guidance and coaching on social and interpersonal etiquettes in the area of personal effectiveness in placement or work place. Key areas will include:
The World of work and Placement;
Understanding and applying your Skills Set
Ethical re-orientation and attitudinal change
Communication Skills
Building Relationships
In essence, the focus is on enhancing the personal effectiveness and sustainability of  placement and employment by participants
Part 2 – This section of the program will include modules on Preparation and Guidance for Vocational Skills–based, Job Search, Work Experience, Work Placement in Corporate and Enterprise environment including Community Work.
COURSE MODULES
Module 1: Vocational Skills–based Preparation and Guidance
This module is designed to help the student become more aware of his/her interests, aptitudes and skills with regard to the world of work and preparing for Placement and the job market (writing application, attending job interviews etc).
This module is designed to enable participants to identify and practice various job search skills. The module will also give students an overview of work related pay and conditions and inform them of the different types of employment available, including self-employment. This module will also focus on the use of Social media, IT skills to maximize employment opportunities.
Module 3: Work Experience
This module is designed to enable participants to prepare and plan for a specific work placement and to reflect on their learning from this experience. The module will also assist the participants when exploring possible career paths and when formulating future plans for further work experience, training, and employment.
Module 4:  Work Placement in Corporate and Enterprise environment
This module is designed to enable the participants to set-up, organise and run their own enterprises. Through direct involvement and practical experience the participants will gain a realistic understanding of how an enterprise operates. The focus of this module is on co-operation and teamwork. This module will be linked to current enterprise opportunities and enterprise programmes
Module 5:  Community Work
This module introduces participants to the work of community and voluntary organisations. Through their participation in, contact with, or investigation of a community agency or project they will increase their awareness and understanding of the importance of community work. This module also helps the participants identify opportunities that will allow them to make a positive contribution to their community.