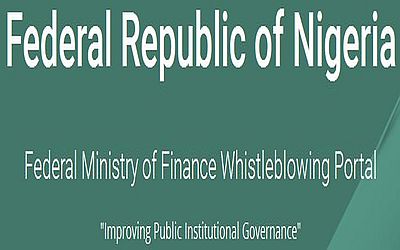 The Whistle Blowing Policy Course Learning Sessions are in Three (3) Parts
PART 1: Learning Approach and Guidelines
PART 2: Course Curriculum:  Lessons
PART 3: Quizzes: Multiple and Single Choice Questions
Learning Approach
The online Whistle Blowing Policy course is based on the following criteria:
This course is based on progressive learning principle levels and is divided into Readable Parts

Courses are assessment based.

Assessment methodology includes quizzes with answers.

Participants will not be able to access the quizzes until lessons have been taken
The content of this course is informed by Policies, Programs and Activities within Nigeria and its public sector.
This course consists of one (1) lesson and is based on the progressive learning approach:
Lesson 1: Whistle Blowing Policy; Definitions, Principles and Concepts
Certificates are downloadable in PDF Format right after the completion of Programme final assessments. If you would like a hard copy of your certificate, please, contact Prime Skills for further discussions.
 Course Background
The Whistle Blowing Policy course seeks to explain the critical issues relating to corruption by public officials in Nigeria and its negative effects.
This course is meant to enlighten as well as guide participants' understanding on what corrupt practices are, and how this policy can impact society positively.
This Course is for:
Public Servants of all Grade Levels/Cadre

Private Sector Employees

Business owners
Course Objectives:
Aids participants' understanding on tools and framework for effective implementation of the whistle blower policy

Identify violation of financial regulation and mismanagement of funds by public officers

To identify the role of the whistle blower
Course Curriculum
UNDERSTANDING THE FEDERAL GOVERNMENT OF NIGERIA WHISTLE BLOWING POLICY - 2017
Instructors